This post may contain affiliate links, which means we'll receive a commission if you purchase through our link, at no extra cost to you. Please read full disclosure here.
If you're searching for the best car captions for Instagram, look no further! We've compiled a list of over 75 clever car captions that are sure to get you loads of likes.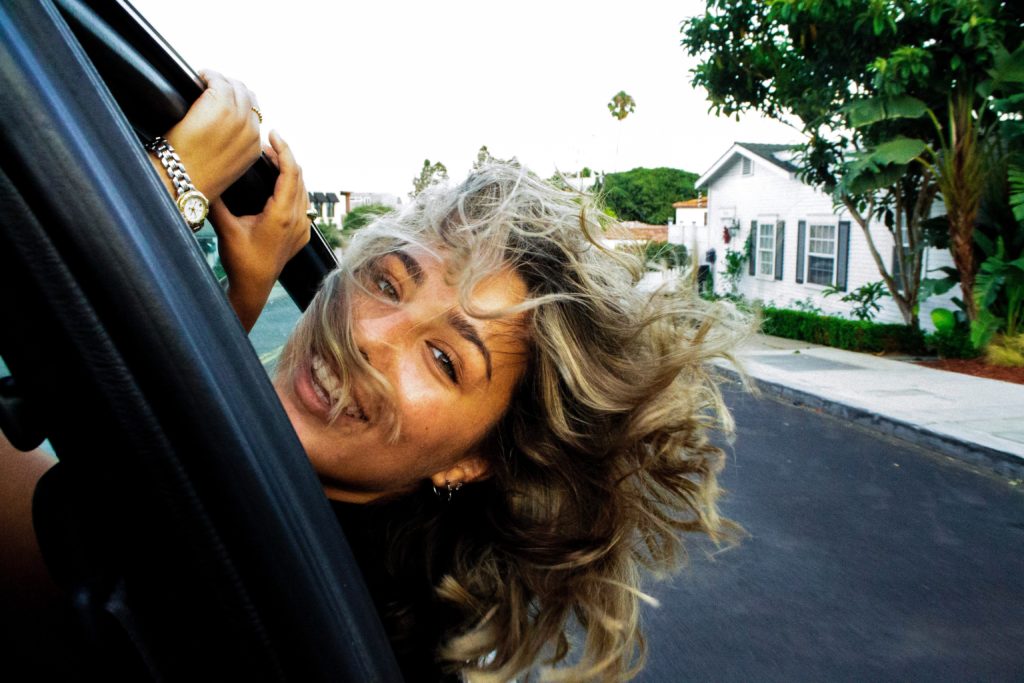 Whether you want to flaunt your brand-new car, show appreciation to your old faithful, or just post your usual Tuesday car selfie, the captions below will help you find the perfect words for your next Instagram caption.
Feel free to customize each caption and make it your own!
To help you do this, we used phrases like [age], [country], and [person] throughout this post so you can fill in the blanks with your own information.
We've also included tips for what kind of photo the captions will go best with.
Related: 23 Super Cute Car Poses For Women & Girls
So without further ado, buckle up, and let's get started!
Car Captions For Instagram
New Car Captions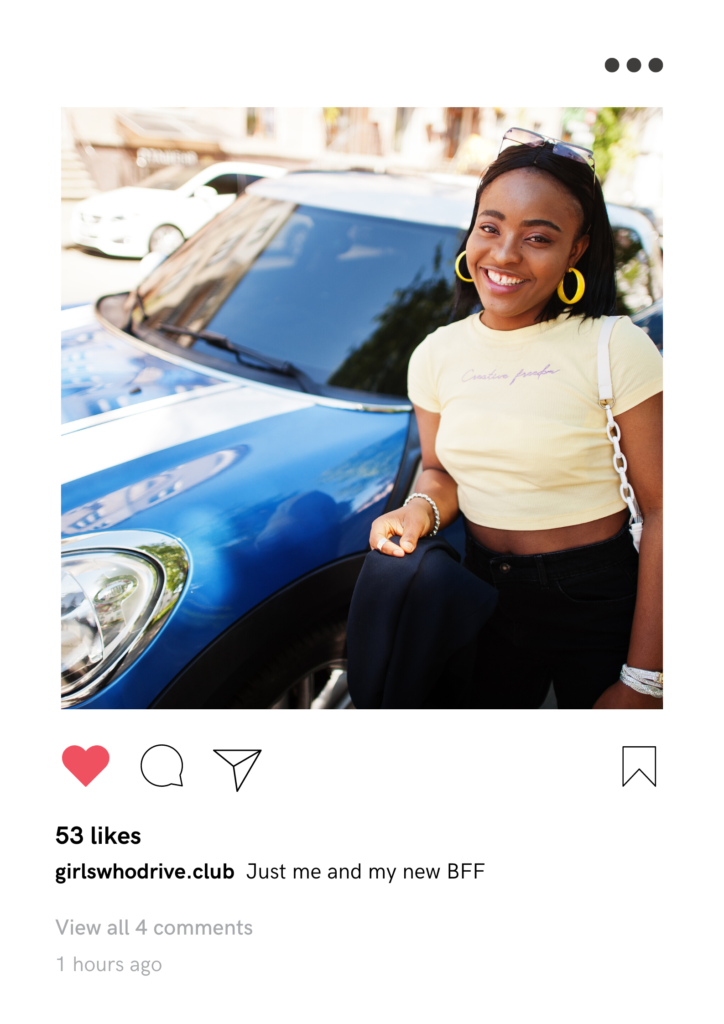 These captions are great for Instagram posts about your new ride.
New car, who dis?
Today, I bought a car. I'm not sure what will happen tomorrow, but I'm ready for the journey.
My new car is turning heads and breaking hearts.
My new ride is purrrrrring 😻 
Cheaper than a therapist, more satisfying than a new pair of shoes 
New haircut, new car, same me.
Hoping this car makes me as look as cool as [person]
Just me and my new BFF 😍
I'm not really a car person but this one's pretty cute 😍 #newwheels
No, I'm not lucky I'm blessed, yes 🙌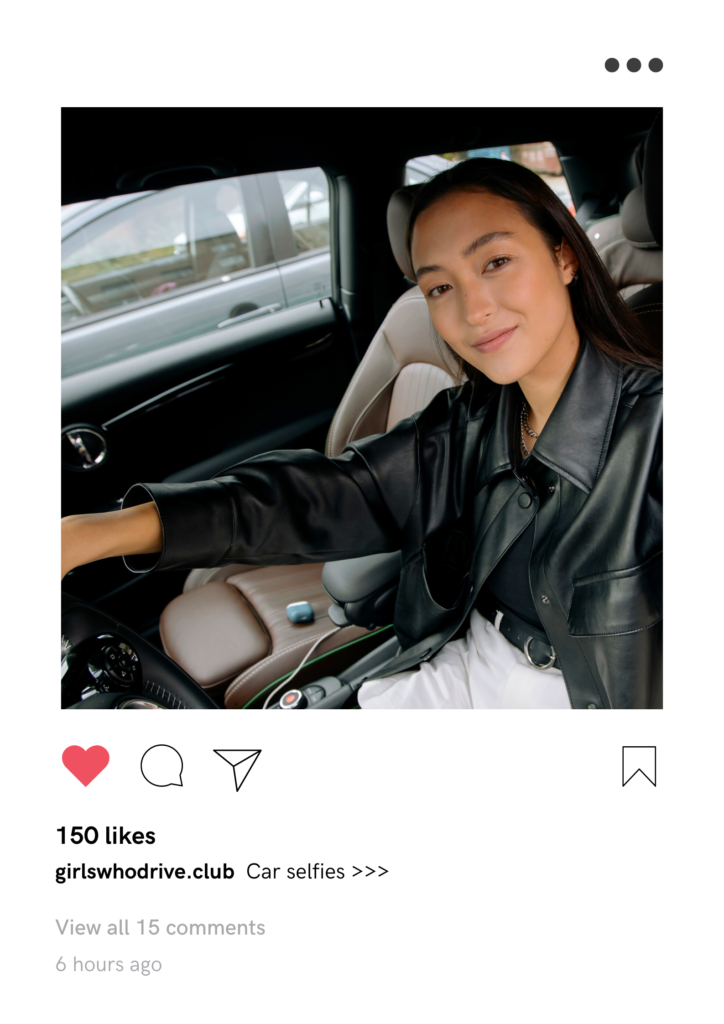 Selfie Car Captions
Just snapped a cute car selfie? Try using one of the following car captions when you post.
If only parallel parking was as easy as taking a selfie. 
Car pics >>>
Car selfies >>>
Act natural, it's the cops *this caption is hilarious when your selfie is silly or far from natural*
Honk if you think I'm cute
[Age] and still havin' a blast behind the wheel 🚗❤️
When you're too lazy to drive but still want a selfie in the car
Went grocery shopping and got some snacks.
My [parent] said we couldn't have snacks in the car, but am I just supposed to walk?
Princess on board
Funny Car Captions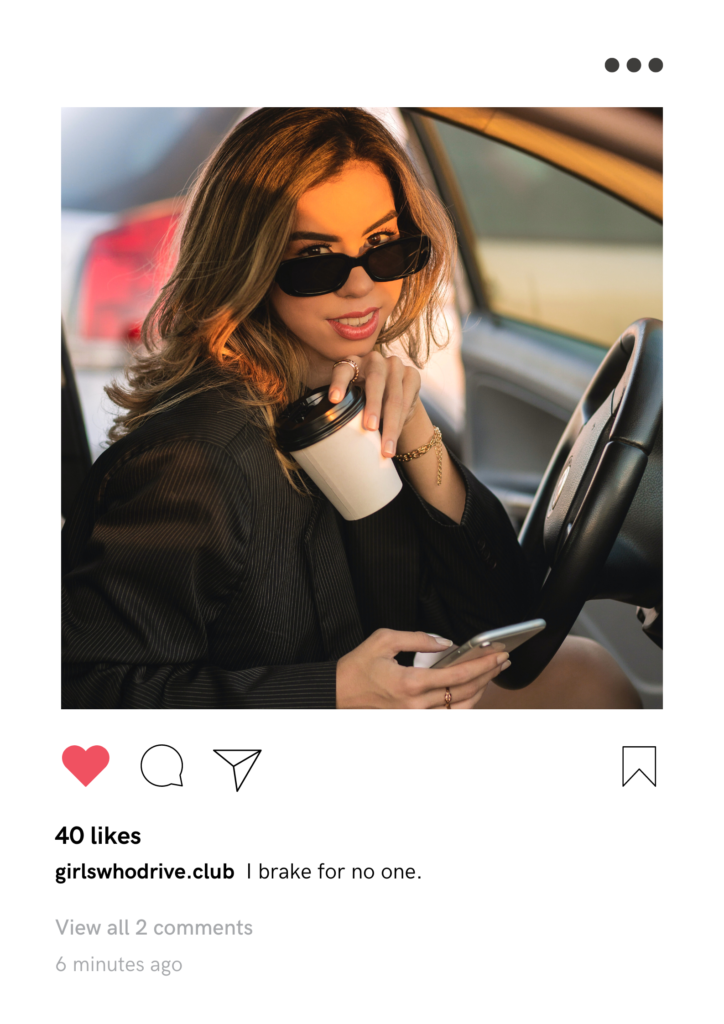 The car captions below will definitely get you some chuckles and smiles from your followers.
If there's one thing I'm good at, it's parallel parking. #Not
I'm sorry for what I said when we were trying to park.
If leather seats could talk, they'd probably tell me to shut up.
I'm a pretty good driver, but I'm a terrible passenger…
Now I just need to figure out how to parallel park
I brake for no one.
If you can't handle me in traffic, you can't handle me at all.
Just another day in [City]… and another parking ticket to add to the collection.
Got another parking ticket…
If traffic was a tune, it would definitely be stuck in my head.
I can finally drive without a map!
If only traffic lights knew how to take a hint.
Just because I have a driver's license, doesn't mean I know how to drive 
I'm not a perfect driver, but I'm perfect for driving in traffic 
my new driving skill: avoiding other drivers at all cost
Treat yourself they said *at the gas station*
Just because I have a nice car doesn't mean I can drive.
Just another day in Los Angeles, trying to avoid parallel parking at all costs.
I'm not saying my car is better than yours, but it does have actual butterfly doors. 🦋
Just because I have a nice car, doesn't mean I'm a rich person. It just means I'm poor and have expensive taste.
I'm not saying my car is fast, but it did come with a police escort 
I'm not speeding, I'm driving faster than the speed of boredom 
While the rest of the world is complaining about gas prices, I'm going to be here like… *for people with electric or hybrid cars*
Spending more at the pump than I ever did at the bar *at the gas station*
Car Captions for Instagram for Girls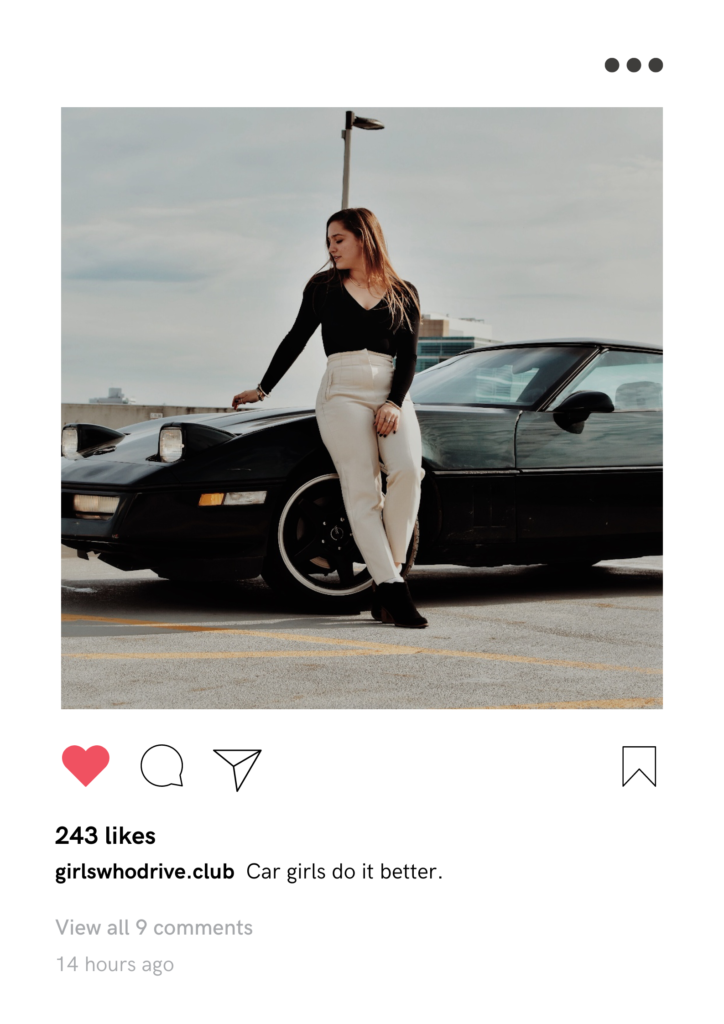 Beep beep, bish
Use your blinkers, bestie
Just a virgin who can't drive
Get in loser, we're going shopping
Hot girls wear seatbelts
Car girls do it better
Just because I'm a girl, doesn't mean I can't appreciate a good car.
Passenger Princess
Road Safety Captions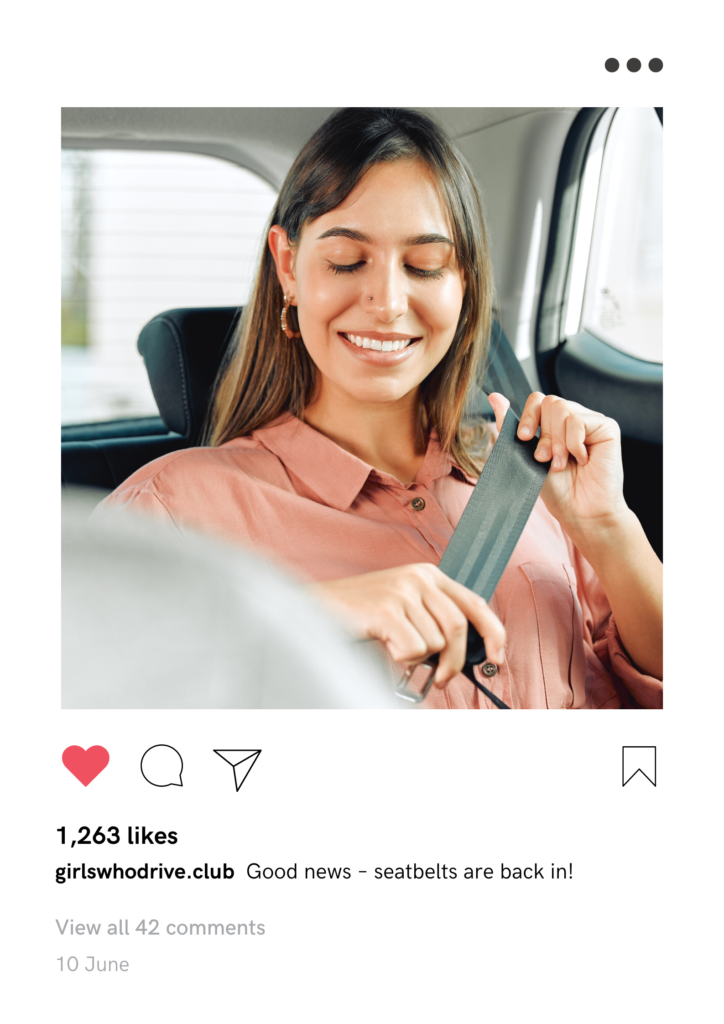 Who says you can't post abour driving safety?? These captions are great if you ever want to post a selfie with your seatbelt.
Jesus take the wheel
Good news – seatbelts are back in!
Safety first
This seatbelt really brings out my eyes.
I like my seatbelt like I like my coffee… whipped!
Click it or ticket! 
Just because I wear a seatbelt doesn't mean I'm not a wild spirit. 😜 
Last time I didn't wear a seatbelt, I ended up in the backseat. 
Good Car Captions for Instagram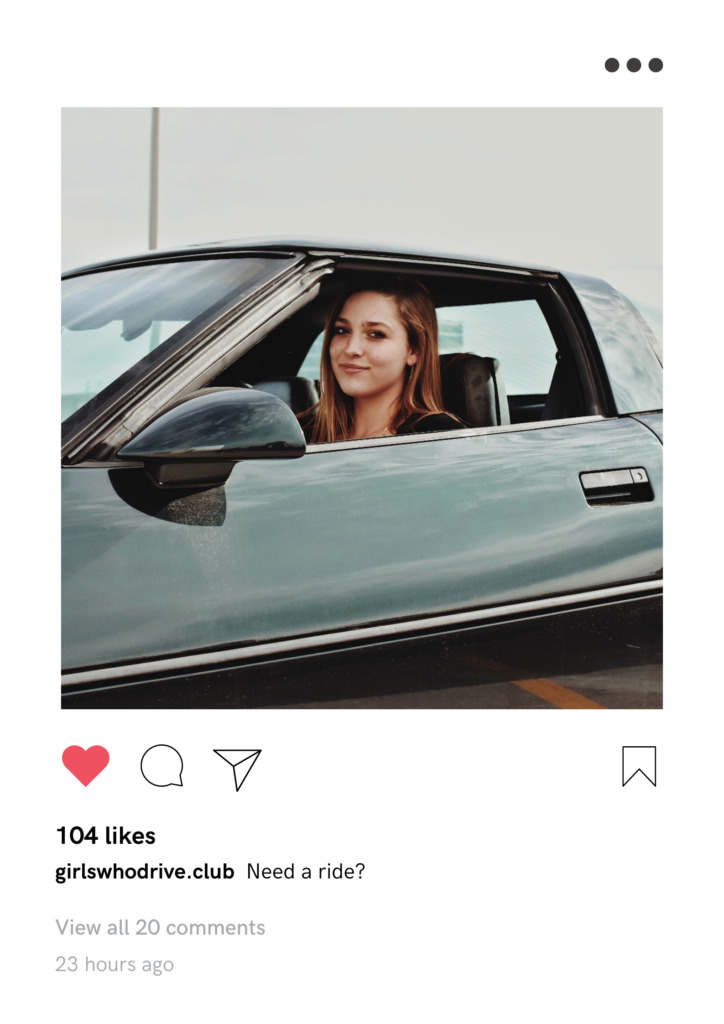 These car captions are great for general posts about your car.
My own magic carpet
Shut up and drive
I'm never lost — just exploring.
Car rides are good for the soul
Need a ride?
Life is a highway and I'm just trying to find my way 
One day, I'll be driving down the street in my convertible with my hair blowing in the wind and the sun in my face
Just me, the open road, and my thoughts.
Going fast isn't about the destination. It's about the journey. 
If life is a highway, I'm definitely speeding
My GPS tells me I'm going places
No matter what kind of day I'm having, I always feel better when I get behind the wheel.
I'm not addicted to cars, I can quit anytime I want.
I may not be perfect, but my car is.
Cars are like shoes: you can never have too many.
Adulting is getting your driver's license and realizing you're not invincible anymore.
Road trip! Time to hit the open road and see what new adventures await 
Follow Us On Instagram!
Love funny and relatable driving memes and videos? Then you'll love our Instagram account @girlswhodrive.club.
Click here to follow us on Instagram and join the club!
P.S Feel free to tag us if you used any of our captions! We'd love to see your car pics XD.