Are you always snacking in the car? In this post, we recommend 15 gadgets for eating in the car you didn't know you needed.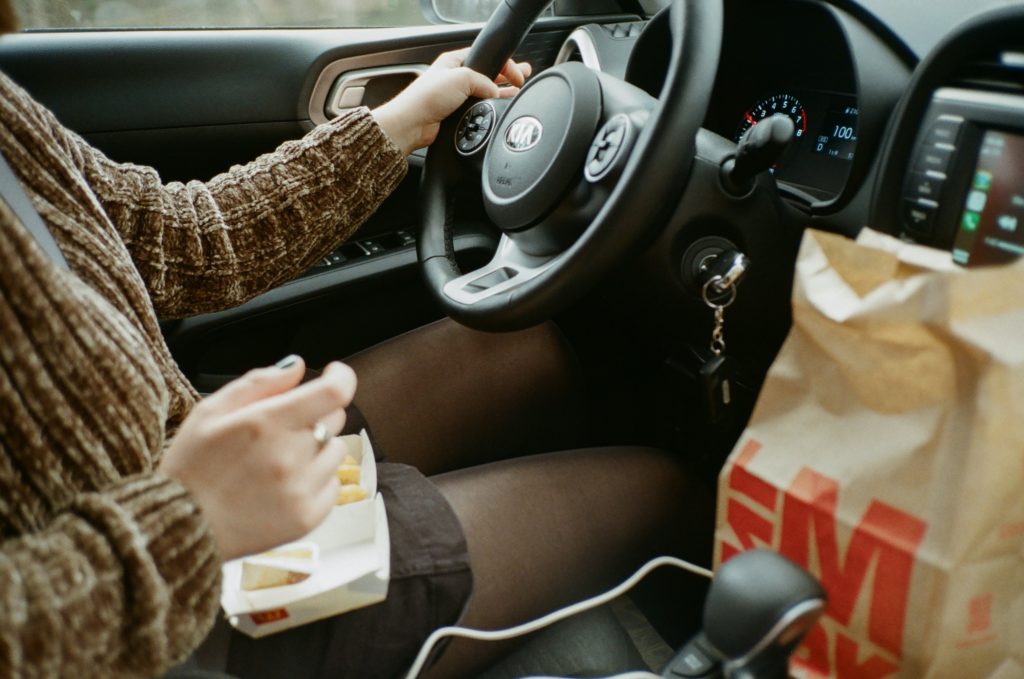 Is It Okay To Eat In The Car?
Whether it's just a light snack or a full car feast, everyone has eaten in their car at some point.
But eating in the car has its problems.
There are the crumbs to worry about, the constant fear of drinks spilling, and sticky fingers that can cause stains.
And of course, the limited space can quickly make eating in the car an uncomfortable experience.
However, these problems can be easily solved.
With the right tools and accessories, eating in the car becomes totally okay as long as it doesn't distract you as you drive.
(Remember it's always better to pull over to enjoy your meal in the car. It's safer and it just might taste better!)
Below are 15 awesome car accessories that will solve all your problems with eating in the car.
We've separated this post into 3 useful sections:
(P.S: If you're planning a car date, these gadgets for eating in the car can help keep your date fun and romantic without worrying about making a mess.)
Related: 6 Car Date Ideas You Need To Try
Let's get started!
Eating In Car Accessories For Meals:
Eating In The Car Accessories for Drinks:
8. Car Coasters
Coasters are also great car accessories for eating in the car.
Not only are they super cute, but they're also really useful.
They help to keep your car's cup holder clean by protecting them from sticky and messy liquids.
Instead of your drink spilling or dripping into the bare cup holder (which can be hard to clean), it will spill onto the coaster which can be easily removed and washed. 
Essentials For Keeping Your Car Clean After Eating
Related: How To Make Your Car Smell So Good That You'll Never Want To Get Out
14. Wipes & Tissues
Car wipes are great to keep if you eat in your car often.
They'll help to clean up spills and messes as soon as they happen.
Of course, tissue is right up there with wipes. They're great for soaking up spills and wiping sticky fingers after you eat.
How Can I Eat Comfortably In My Car?
Our best recommendation for comfortable eating in the car is to pull over.
It's totally understandable to want to eat on the go if you're in a hurry, but spills and other accidents are much more likely to happen if you try to eat while you drive.
Once you've pulled over though, a steering wheel tray and cup holder can make you feel almost like you're in your own private restaurant.
Almost.
If you really can't pull over, we recommend having some light snacks that are easy to munch on and won't pull your attention from the road.