This post may contain affiliate links, which means we'll receive a commission if you purchase through our link, at no extra cost to you. Please read full disclosure here.
This post is all about how to take a good driver's license photo.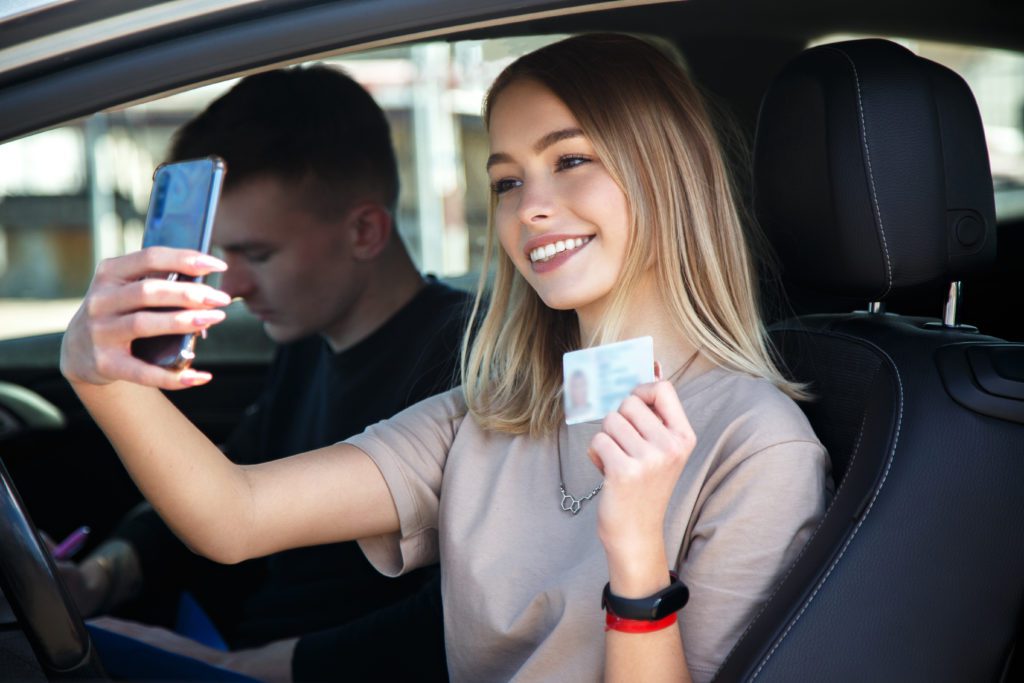 We've all seen those jaw-dropping driver's license photos (like the one below), usually of celebrities, IG models, and other attractive people.
Photos like these make us go: howww??????

The truth is, it's not hard to take an attractive driver's license photo.
Sure, genes help, but the secrets to a good-looking license photo are simple, and you don't have to be famous or a model to know them.
In this post, we'll teach you how to take a good driver's license photo in just 8 steps, plus 6 more steps to the perfect license picture.
It'll be a photo you'll be proud to show off!
**If it's already the day to take your driver's license photo, you can skip to this section for some helpful tips you can use immediately!
How to take a good driver's license photo
1. Do your research
This first step is absolutely crucial. 
You don't want to show up for your photo, find out that you aren't meeting the guidelines, and have to come back another time – or worse, have to change your look on the spot.
Incidents like these can really throw you off, causing you to look upset or untidy in your photo — which obviously isn't a good look.
So, always do your research!

Depending on what country or state you live in, there are always going to be some guidelines about what is and isn't allowed in your driver's license photo.
For example, in many countries, head-coverings aren't allowed in your driver's license photo unless they're worn for religious or medical reasons. 
To get all the information you need, check the website of your local driver's license agency or handbooks/leaflets they've distributed.
Also, don't be afraid to send them an email or give them a call!
That way you can get the most accurate and reliable info, right from the source.
Here are some things you might want to find out:
Can I smile in my driver's license photo?
Are there any hair colors that aren't allowed?
What color is the backdrop?
Is there anything that isn't allowed to show in the photo?
Can I bring my own lighting?
Helpful links: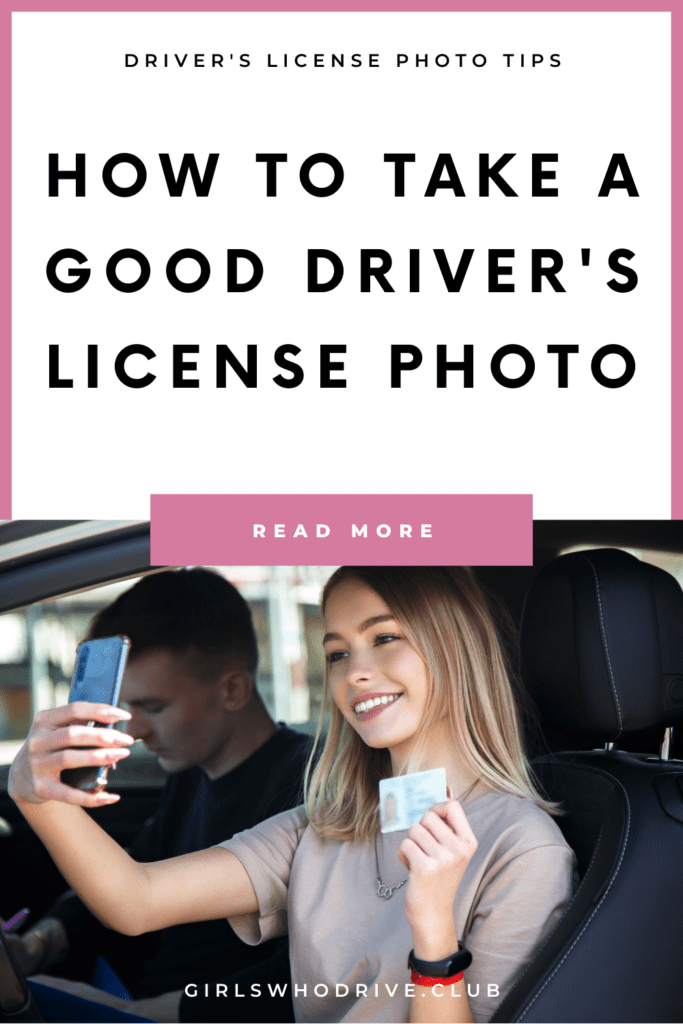 2. Gather inspiration
The second step to taking a good driver's license photo is to gather inspiration.
You're lucky that you aren't the first person to ever take a driver's license photo — use that to your advantage!
In this step, go to Pinterest (we have a board just for this), Google, Instagram, or any place you can find photos of other people's driver's licenses, passport photos and IDs.
Based on the research you did in step one, create a collection of driver's license photos you could copy and learn from.
Is there a hairstyle you think you could pull off?
See a make-up look you like?
Related: 13 Driver's License Makeup Tips You Need To Know
Use this opportunity to save/screenshot all those photos for later.
Here are some things to look out for:
Facial expressions
Hairstyles
Makeup looks
Outfit ideas (color & style)
Remember, it's important to go based on your research because you don't want to 'be inspired' by looks that don't adhere to the guidelines of your country! That's just a waste of time.
3. Practice
Step 3 of how to take a good license photo is practice, practice, practice.
You might be thinking… shouldn't the photographer be the one practicing?
Well, he's a professional, who's taken hundreds of photos over his lifetime.
But you?
You only have a few minutes to take your driver's license photo at least once every 4 years.
You want to practice taking your photo so that on the big day, you can confidently take your best photo.

In this step, you should practice all the hairstyles, makeup looks, and outfits you found in step 2.
(Read this post to learn more about practicing your driver's license makeup.)
Then, get someone to take a picture of you with each look or take them yourself with your phone camera timer.
A tripod stand might be helpful if you're going with the second option.
✅ We recommend this one from Amazon. It comes with a really handy remote so you can easily take photos at any distance.
Here are some tips for recreating the photography set-up at the DMV:
Use a plain background in a color closest to the color of the backdrop at your local DMV
Position your camera at eye-level, a few inches away from you
Use flash (if your local DMV does)
Stand or sit (according to what's done at your local DMV)
Try to take only one photo — you won't get a bunch of redos on the actual day!
4. Try a template
This step is totally optional but a great idea if you really want to take a good driver's license photo.
Use a driver's license template to get a better idea of how your driver's license is going to look.
This is a good idea because sometimes your practice photo might look good on its own, but absolutely awful if it was cropped and zoomed in and plastered on a small plastic card.

Trying a template is also a great way to see if the color of your outfit clashes with the backdrop in the photo.
If you like the look of your practice photo on a driver's license template, good for you!
Once you've chosen your best look, you're ready to take your real driver's license photo.
Get our FREE driver's license template
After lots of searching, we realized that the free driver's license templates out there weren't that great :/
So, guess what?
We created our own!
Enter your name and email below and we'll send you two super cute driver's license templates 🙂
We also wrote a blog post all about how to use our templates so you can get started right away!
Drivers license photo tips for the night before
The following 5 steps are for the night before to the moment you take your license photo.
5. Get enough sleep
Eye bags are not cute.
Even if you can successfully hide them with concealer, tiredness can still show on the rest of your face.
For this reason, it's best to get a good rest the night before you have to take your driver's license photo.
At least 7 hours should do the trick.
That way, you'll have a natural glow and be in a better mood — two essentials for a good driver's license photo!
6. Be there on time
If you've made an appointment to get your driver's license photo taken, it's important to be on time.
Being late can stress you out and even annoy your photographer, both of which can cause you to have a less than flattering license photo.
It's best to be there early so you can be cool, calm and collected for your photo. 
If you think that you're likely to be late, check out this post about what to do when you're running late to an event or appointment.
7. Relax
This is a must! You may be nervous about getting your driver's license photo taken, especially if it's your first time.
While that's totally understandable, it's important to remember that when you're tense, your photo isn't going to look as nice as you'd want it to. 
If you feel worried or anxious, try doing these four things:
Take deep breaths
Listen to your favorite upbeat song
Do anything else that'll help calm you down — sing, pray, read, or call a friend
Remember that remaining calm will help you take a better photo!
8. Bring a bag
No, the bag isn't an accessory for your photo (XD).
This is the bag you're going to want to put all the things you'll need for your photo.
Here are some things you might want to bring with you to the DMV/ drivers license agency:
Tissue/ oil-absorbing sheets – to remove any excess shine from your face
Lip balm, lipstick or lipgloss – to prevent chapped lips
A small mirror – to check out the way you look
A comb/brush and your favorite hair gel – to smooth flyaways
Toothpicks – to remove food from your teeth
Driver's license photo tips you can use on the day of (6 tips for the perfect ID):
Are you minutes away from taking your driver's license photo?
Or are you just looking for some more driver's license picture tips?
Either way, the tricks below are quick and easy, but make a HUGE difference:
1. Confidence
Confidence is one thing that definitely shows on camera.
Without it, every other step taken is basically useless!
So be confident.
Now, this is often easier said than done, so here are some tips that may help you to be/look more confident:
Relax: take some deep breaths. Try to get to the root of your nervousness or anxiety.

Remember that at the end of the day, it's just a picture of the same person you see every day — there's really nothing to worry about!
Imagine you were right at home in front of your mirror, all by yourself. Pose and smile just like you would if you were all alone!

The photographer probably takes hundreds of photos a day — they're not going to think too much about yours!
Remember that looking timid, tense, shy, or afraid isn't going to help with taking a good photo
If you have some time before your picture,  even just a few minutes, pull out a small mirror or your phone and practice the pose/look you're planning to do.

That way, when it's time to take your photo, all you have to do is what you just practiced!
Finally, be a copycat!

Just like we mentioned earlier, look to other driver's license photos for inspiration.

Pick a photo you like and aim to copy that pose as best as you can. No one is going to know if you feel nervous if you don't look it.
The phrase is fake it till you make it — so do that!
2. Posture
Good posture is essential to take a good driver's license photo!
Even if you're used to slouching, sit/ stand straight and square your shoulders.
Also, consider your neck and head posture.
Both should be straight — don't tilt to the left or right unless that's part of your pose (if you're allowed to pose, that is).
3. Use eye drops
Eye drops can do a lot to brighten dull, tired, or discolored eyes in just a few seconds.
Give them a try if you need to!
4. Use tissue or oil-blotting paper
These can help to reduce excess shine on your face — specifically in your T Zone.
Tissue or wipes can also be useful to remove any excess makeup if you think you're wearing too much.
If you followed our tip about bringing a bag, this should be no problem for you.
5. Find out how many photos you're allowed to take
This is important because it can help you plan a quick strategy. 
If you're only allowed one take, you know to give it your best look the first time around. 
If you're allowed to take more photos, you can experiment with different looks and poses and decide which looks best in the end.
6. Be polite!
This underrated tip can really make a difference.
First, aiming to be polite will put you in a better mood which is great — no one looks good with a scowl on their face.
Second, it'll help the photographer to like you more, even if it's just a little.
Who knows? Favor from the photographer might help you get a nicer driver's license photo!
And even if it makes no difference to your picture, remember that the photographer takes lots of photos every day and interacts with a lot of different people.
Don't make their day any harder by being rude. It costs $0.00 to be kind 🙂
Join the GWD Facebook group
If you've made it this far into the post, we want to invite you to our brand new Facebook group!
We're still getting it all setup, but if you join now you'll be one of the first to know when we start posting.
Our hope is that this group will be a wonderful community of girls and women at all stages in their driving journey, and a place to share tips, stories, accomplishments, and frustrations.
We're so excited and we hope you are too!
Click here to be one of the first to join the fam 🙂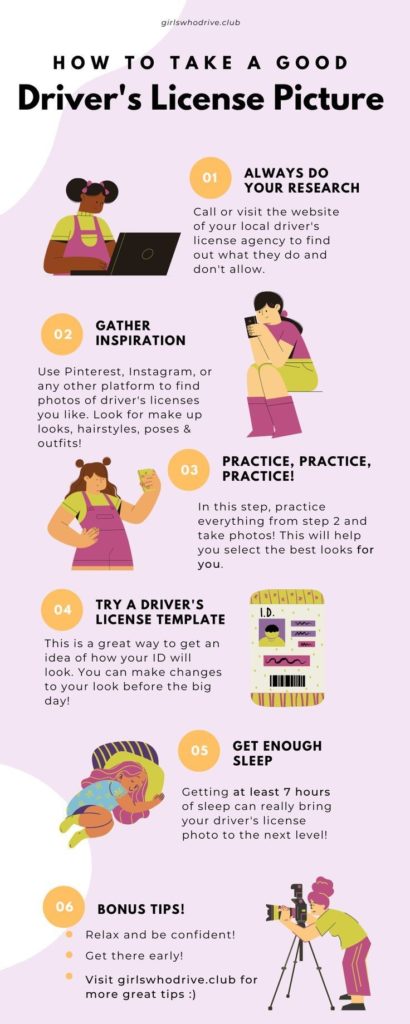 Conclusion
Knowing how to take a good driver's license picture often seems like a skill reserved for celebrities, IG models, and other attractive people.
The truth, however, is that anyone can take a good driver's license photo — all you need is the right tips.
In this post, we teach you how to take a good driver's license picture that'll you'll be proud of — in just 14 helpful steps.
Pin It!