This post may contain affiliate links, which means we'll receive a commission if you purchase through our link, at no extra cost to you. Please read full disclosure here.
If you're curious about what car Emma Chamberlain drives in 2022, you've come to the right place. This post is all about the Emma Chamberlain car.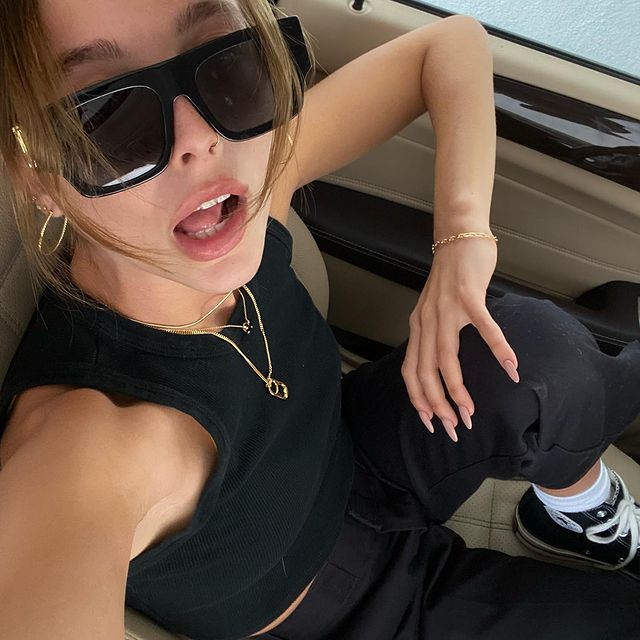 Quirky and unapologetically herself, it's no surprise YouTuber Emma Chamberlain has earned a lot of attention online. 
As a result, she has over 11.2 million subscribers on YouTube alone and an estimated net worth of $12 million, according to this source. 
How did Emma Chamberlain get so rich? 
From what we know, it's all thanks to her YouTube success, leading her to lucrative sponsorships and brand deals, as well as a large audience for her companies Bad Habits and Chamberlain Coffee.
But regardless of its source, you have to admit that that's a lot of money for a 20-year old.
Of course, she's spent some of that money on a car and it's the place she very often films her videos.
But, what kind of car is it exactly?
What car does Emma Chamberlain drive?
As of 2022, it's been confirmed that Emma Chamberlain drives a Mercedes. 
Surprisingly, the YouTuber hasn't bothered to share this information publicly.
This has led many to make some assumptions, ranging from a Mitsibushi Outlander to a Subaru Legacy. 
While both of these are cars she has driven in the past, her latest car isn't any of those brands. 
Below, you'll find more information about Emma's car including the model, color, and price. You'll also find some interesting facts about her current and previous car.

Emma Chamberlain… New Car?
You might be wondering: did Emma Chamberlain get a new car? 
Well, if you've seen any of Emma's latest videos, you'd know that something is definitely different about her ride.
Her previous car had beige seats and now the seats are black with white stitching. 
Of course, she could easily achieve this new look with some black seat covers, but it's not only the seats that are different.
The dashboard, steering wheel, and doors are different too! With these clues, it's pretty obvious that Emma Chamberlain got a new car.
So, what car does Emma Chamberlain drive in 2022?
As of January 2022, we're pretty sure Emma Chamberlain drives a 2021 Mercedes AMG GLE 53 Coupe.
And of course, we have proof.
Check out these comparisons of the 2021 Mercedes AMG GLE 53 Coupe with Emma Chamberlain's ride.
The screenshots of Emma's car are all from her video 'ugg season'.

The steering wheel
Although these screenshots are from different angles, the similarities between the two are obvious.
Notice the suede-like material on the sides and the unique silver piece on the handle.
These are both features of the 2021 Mercedes AMG GLE 53 Coupe's AMG Performance steering wheel in Nappa/DINAMICA which costs an additional $500 USD.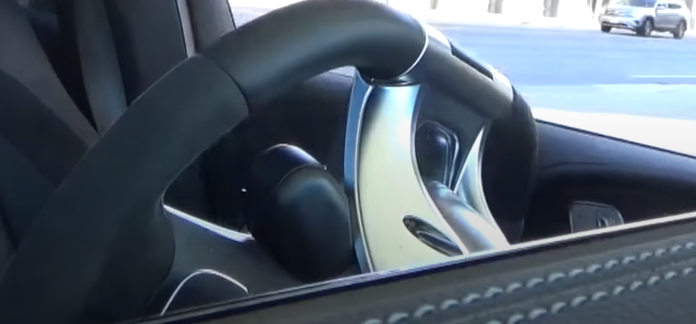 The seats
The similarities between the 2021 Mercedes AMG GLE 53 Coupe's seats and the seats of Emma Chamberlain's car are also undeniable.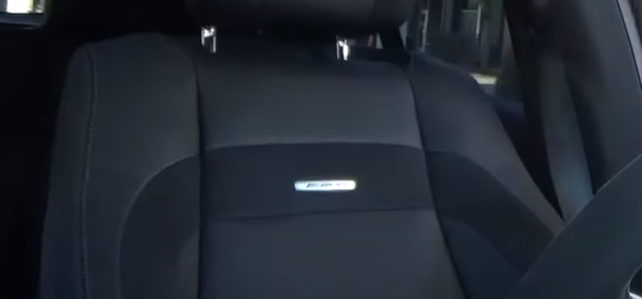 The doors
Notice the unique button design on the door of both Emma's car and the 2021 Mercedes AMG GLE 53 Coupe.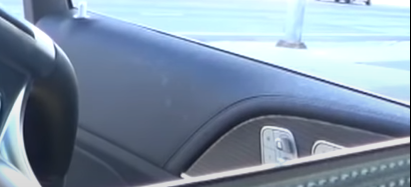 The roof
Of course, all sunroofs look pretty similar but we just wanted to point out that Emma's car has one, just like the 2021 Mercedes AMG GLE 53 Coupe.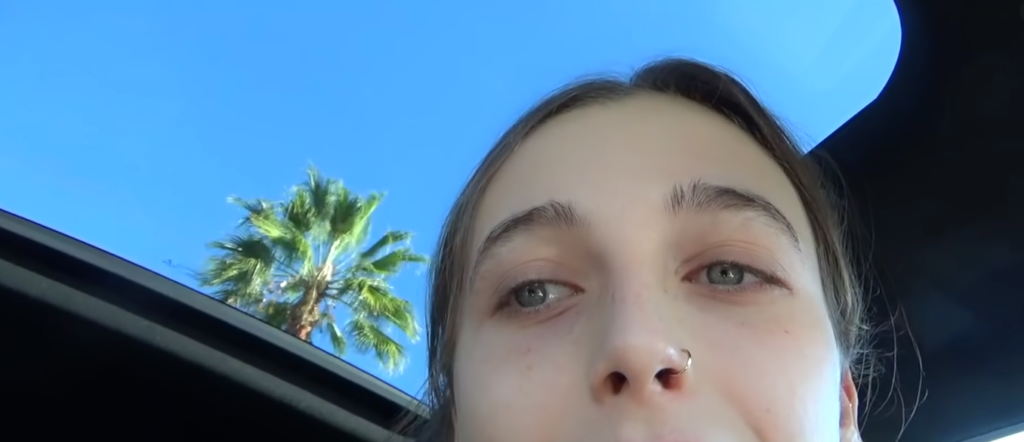 The dashboard
This is our weakest bit of proof, but both the 2021 Mercedes AMG GLE 53 Coupe and Emma Chamberlain's car have stitching on the dashboard.
Coincidence? We think not!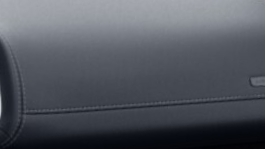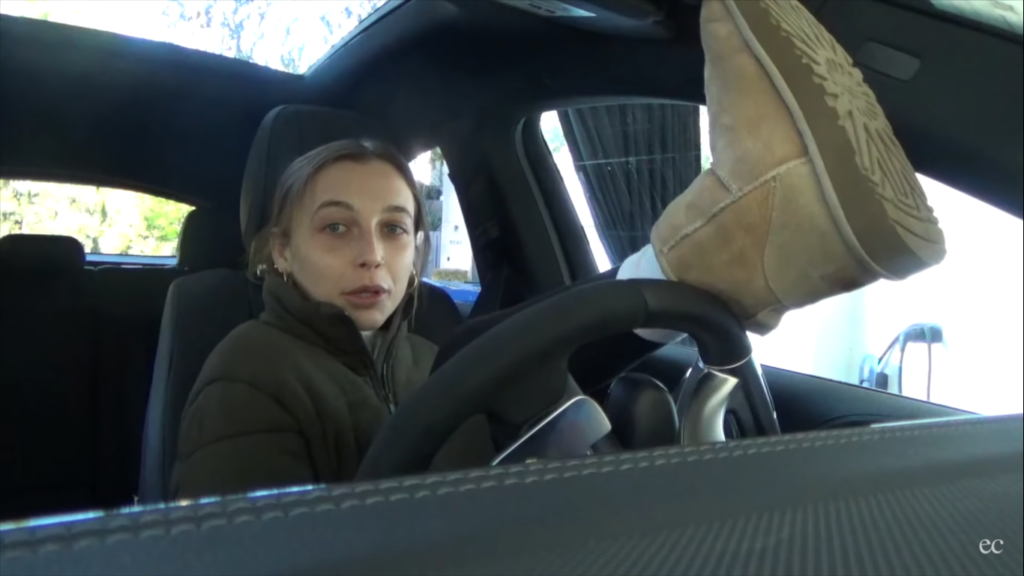 Of course, only Emma can confirm how accurate we are, but we think we hit the nail on the head in guessing what car she drives.
What do you think? Let us know in the comments!

What color is Emma's car?
As of 2022, Emma Chamberlain drives a white Mercedes with a black leather interior.
Her previous car was also white, so we're thinking she has a thing for white cars.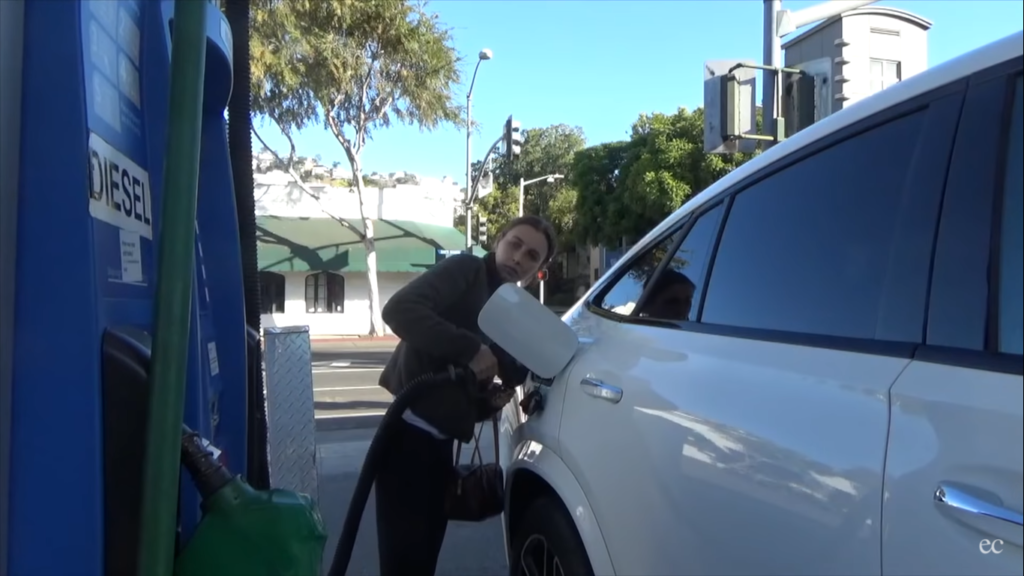 How much did Emma Chamberlain pay for her car?
According to mbusa.com and with the specifics of Emma's car in mind, we've estimated that Emma's Chamberlain's new Mercedes costs approximately $81,550 USD.
What car did Emma Chamberlain drive in 2021?
Emma seems to be pretty fond of Mercedes. In September 2021, this video was taken by the paparazzi where Emma is seen at a gas station, filling up her tank. 
Minus the controversy surrounding that video, it gives us pretty good clues about what car Emma drove in 2021. 
In 2021, Emma Chamberlain drove a white Mercedes GTE 350 with beige seats.
What's in the Emma Chamberlain car?
In her video 'ROADTRIP TO SF', Emma shared that she has a lot of masks in her vehicle — over 6!
While we're glad to know she's staying safe during COVID, we'd definitely recommend this cute and handy mask dispenser to help keep her car organized.
When did Emma Chamberlain get her driver's license?
Emma got her driver's license in 2017. She talks about it in this video called 'Taking My Driving Test… (Vlog #3)'.
Does Emma like driving?
In her video 'Roadtrip to SF', Emma said that she prefers driving to flying because she feels in control, she has wifi and she can look at nature. 
What more can you ask for? 
Related: 5 Really Good Reasons You Should Learn How to Drive
So that's what we know about the Emma Chamberlain car.
We hope you found this post informative!
If you're interested in learning more about celebrity cars, specifically YouTuber's cars, check out our post on all 15 of Jeffree Star's Fabulous Cars.
Pin It!