In this blog post, we will discuss the 12 best dog car essentials to keep your pooch safe and comfortable during your car ride!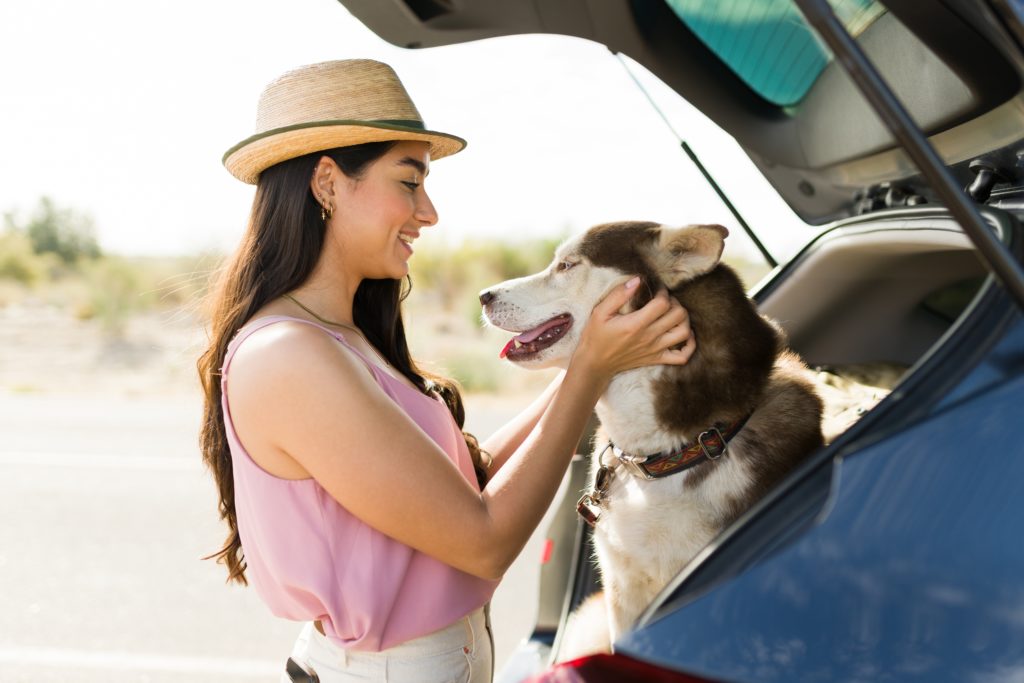 If you're a dog owner, then you know that taking your furry friend for a car ride can be a lot of fun.
But did you know that there are some specific dog car accessories that can make the experience even better for both of you?
Whether it's a short trip to the park or a long road trip adventure, the items below are must-haves for every dog owner to keep both you and your doggy happy in the car.
What should I keep in my car for my dog?
In a hurry? Here's a quick checklist of 12 dog car accessories you'll want to pack for your next car ride with your furry friend.
Seatbelt & Harness
Temperature Monitor
Booster Car Seat
Seat Covers
Toys
Spill Proof Water Bowl
First-Aid Kit
Waste Bags
Dog Sunscreen
Car Vacuum
Car Ramp
Travel Bag
Dog Car Essentials
Now let's take a closer look at each of these items and why they made our list of must-have dog car essentials.
A seat belt and harness are two of the most important things you can buy to keep your dog safe in the car.
Car rides can get bumpy and dangerous and in the event of an accident, your pup will have a hard time staying put.
Anxious or hyper dogs might also find it hard to keep still and can distract you while driving.
This retractable dog seat belt & harness is the perfect solution. It'll keep your dog safe and secure so both of you can have a stress-free journey.
Though you may want to bring along your furry friends on all of life's adventures, they won't be able to accompany you into most stores and restaurants. If a stop is necessary during car rides, it's important that their safety isn't compromised while they wait in the vehicle.
To keep them safe from temperature extremes, consider investing in a temperature monitor which will alert you if the car gets too hot or cold for their comfort. This dog-friendly temperature monitor from Amazon is perfect for this.
With the Waggle RV Dog Temperature Monitor, you won't ever worry again about leaving your pup alone in the car!
This wireless device lets you keep an eye on temperature and humidity levels inside your vehicle. As soon as it's too hot or cold, this helpful gadget will alert you so that nothing happens to your furry friend. With a monthly or yearly subscription option -you can have complete reassurance when taking your dog for rides around town.
A dog booster car seat is another great way to keep your dog safe in the car.
These seats are designed to keep your dog restrained and comfortable during the ride while also allowing them to enjoy the view. They also help to prevent your dog from getting car sick by keeping them in one spot.
This 5-star dog car seat comes in a variety of sizes, so you can choose one that will fit your dog comfortably.
Another dog car essential is a dog seat cover.
This hammock-style seat cover protects both your front and back seats from dirt and hair, and prevents scratches or other damage caused by your dog's nails.
It's also waterproof for extra protection against spills and accidents.
Dog toys are another important item to pack for your car ride.
They can help to keep your dog entertained during the trip and prevent them from getting bored. Be sure to choose dog toys that are durable and safe for your dog to play with in the car.
This adorable car-shaped toy lets your dog do some driving too!
Water and food bowls are essential for any dog owner who plans on taking their furry friend for a car ride.
This spill-proof dog bowl is perfect for keeping your dog hydrated and fed during your trip. It also minimizes splash so you don't have to worry about cleaning up afterward.
A first aid kit is another dog car essential.
This can help you to be prepared for any emergencies that may occur while you're on the road. This pet first-aid kit from Amazon comes with everything you need to care for your doggy in an emergency.
You can also make your own first-aid kit to fit your dog's specific needs. Be sure to include items like bandages, antiseptic wipes, dog-safe pain relief medicine, and tweezers.
Any dog owner who wants to maintain a neat and tidy vehicle should pick up waste bags and a poop scooper.
These products help you stay on top of your pup's business, wherever the road takes you! Make sure that the bags are biodegradable for maximum convenience – plus, they'll be easy to use.
The Earth Rated Dog Leash Dispenser set comes with 30 durable, leak-proof waste bags and a genius little hook on the dispenser to help keep your hands clean.
You can find it here:
Dog sunscreen is an important item to pack when traveling to a sunny destination or if you like to travel with the windows down or the sunroof open.
Sunscreen can help to protect your dog's skin from the sun's harmful rays. Just be sure to choose a sunscreen that is safe for dogs and that has a high SPF.
This pup-friendly sunscreen prevents sunburns, is non-greasy, and smells like vanilla!
A vacuum is another essential item to keep in your car — particularly if you don't have a dog car seat cover.
Dogs shed lots of hair, so it's important to have a way to keep your car clean.
This portable, rechargeable vacuum is lightweight, yet powerful enough to pick up every dog hair. It also comes with handy attachments for hard-to-reach areas.
If you have a dog that is large or has mobility issues, a dog car ramp can be an invaluable piece of equipment to have.
This dog ramp from Amazon folds up for easy storage and features built-in guard rails, non-skid feet, and easy-to-grip tread so your dog won't slip when using it.
A dog travel bag is a must-have if you plan on taking your pup on longer trips.
This dog travel bag has plenty of room for all the dog car essentials, plus food and toys! It also features a waste bag dispenser and a water bottle holder.